Rise n' Shine
$29.95
Rise n' Shine is comprised of 19 beautiful Anthology Fabrics Batiks from the Art-inspired Collection inspired by Claude Monet's famous "Oats and Poppy Field".  The combinations of color and textures have been carefully selected and arranged to create this colorful and energizing large throw quilt.
The Rise n' Shine block is constructed in 2 sections:  the first section is patch-pieced; the second section is foundation-pieced.
Rise n' Shine is #13 in the "Whole Is Greater" series of designs by Cat Nix.  What is the 'Whole is Greater' series about?  I proudly proclaim: I'm a fabri-holic.  I share the opinion of many quilters that, when it comes to fabric . . . more is definitely MORE! The more fabrics I bring into in a quilt design, the happier I become!  Through the marriage of design and color, the viewer is invited to look beyond the beauty of the composition as a whole to explore the subtle nuances that lie within the quilt itself.  The composition encompasses every patch, every stitch;  from center to edge. Rise n' Shine is another stunning illustration of the "Whole" being "Greater than" the sum of its parts.

A quilt is not a quilt until it's quilted.  Many, many thanks Shawn Leighton for making "Rise n' Shine" look so good!

Pattern Size: 65 x 65 Inches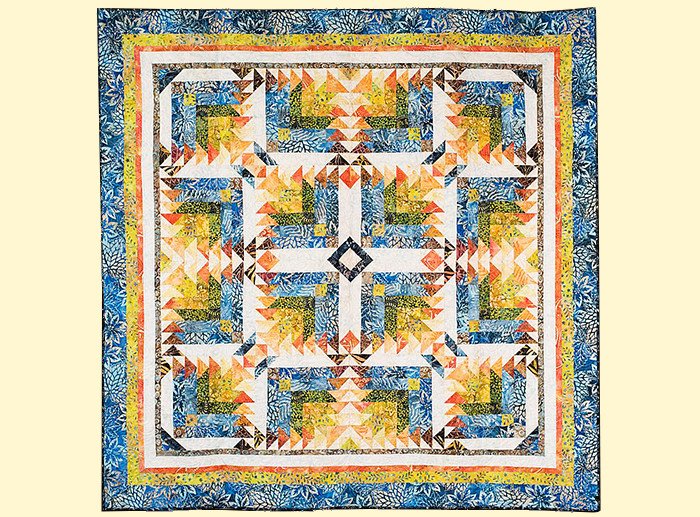 Click Here to see Rise n' Shine Up Close
Every effort is made to present a well written, well illustrated, quilter-friendly pattern.  Pattern includes: Cover Page, Yardage Information, & "Good to Know" Basics for Quiltmaking.  The color illustrations, diagrams & written instructions are specific to the making of "Rise n' Shine".  Foundation templates included on CD to print directly to foundation material.
Skill Level:  Confident Quilter

Techniques: 

• Strip Piecing
• Foundation Piecing
• Block Assembly
• Making Border Sets
• Making Mitered Corners
• Binding
Useful Items:

Rulers: Creative Grids™ recommended
12-1/2 in. Square Ruler (CGR12) 

• Simple Foundations Vellum Paper from C&T Publishing™, or something similar, (22 sheets)

• Finger pressing tool
• 1/4 in. Presser Foot with guide
• Open Toe or Clear Presser Foot for Foundation Piecing