Moorland Way
$25.00
Moorland Way was inspired by the breathtakingly beautiful Scottish Highlands.  The color story is reminiscent of the stunning, unspoiled nature of Scotland's rugged mountains, deep blue lochs and empty glens.  Sunny spells and dark shadows move over the land;  one moment you see the hills, the next moment, they are gone.  Combining Hand-dyes and Batiks create this illusion in the quilt.  Colors flow analogously to give the viewer's eye a path to follow from one place to another.
Moorland Way is composed of 35 full blocks and 14 half blocks primarily made of one construction.  Fabrics are arranged in a variety of combinations to create 22 variations that illuminate fluid, reflective flow of color and design.  The composition of the block includes 3 different patches:  2 triangles & 1 angled rectangle.  Most quilting and sewing involves seams sewn edge-to-edge; however, not all patchwork patterns can be assembled with continuous straight seams. Sometimes a piece has to be set in, which is commonly known as a "Y" seam.  Block assembly includes "Y" seams.

A quilt is not a quilt until it's quilted!  Many, many thanks to Shawn Leighton for making "Moorland Way" look so good!
Quilt Size: Approximately 75 x 85 Inches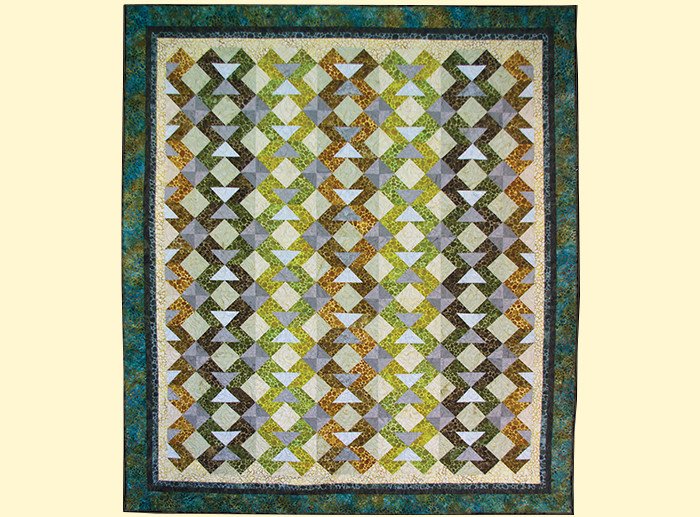 Click Here to see Moorland Way Up Close
Every effort is made to present a well written, well illustrated, quilter-friendly pattern.  Pattern includes: Cover Page, Yardage Information, & "Good to Know" Basics for Quiltmaking.  The color illustrations, diagrams & written instructions are specific to the making of "Moorland Way" with "Y" seams.
Skill Level:  Confident Quilter

Techniques: 

• "Y" Seam Block Assembly 
• Making Border Sets
• Lapped and Mitered Border Instruction

• Binding Instruction
Useful Items:

Rulers: creative grids™ recommended
10-1/2 in. Square Ruler (CGR10)

• Heavy Template Plastic

• Finger-pressing Tool
• 1/4 in Presser Foot with guide