LORE . Chapter 1 . . . Our Story Begins . . .
$19.75
Lore, the Story of our Lives is a series of four quilts, each representing a transforming phase of one's life journey.

LORE is composed of 2 main blocks made of one construction: Block 2 mirrors Block 1. Horizontal and Vertical Sashings, along with the center block, bring the main blocks together and complete the center design. A series of pieced borders wrap around the quilt, further extending the design beyond the center.  Each chapter of LORE is unique, not only in its coloring, but in its design as well. Sashings and Borders differ slightly to enhance the story of each quilt. Lapped Borders surround the center of LORE - Chapter 1. The center design of LORE - Chapters 2-4 is wrapped with Border Sets that are created and attached at one time, then finished with Mitered Corners.

Each LORE pattern includes detailed illustrations and instruction for constructing specific chapters of the LORE quilt. Higher contrast makes it easier to distinguish background from foreground. Thus, piecing images and diagrams included in the LORE series of patterns follow the same progression of LORE - Chapter One, (2 fabrics). Illustrations & assembly diagrams are color-specific for the LORE quilt you choose tell your own story. 
LORE - Chapter 1, made with 2 contrasting fabrics, reflects the starkness of opposites.  Chapter 1 is the most defined of the four designs. 

A quilt is not a quilt until it's quilted.  Many, many thanks to Shawn Leighton for making "LORE" look so good!

Quilt Size: From 63 x 63 Inches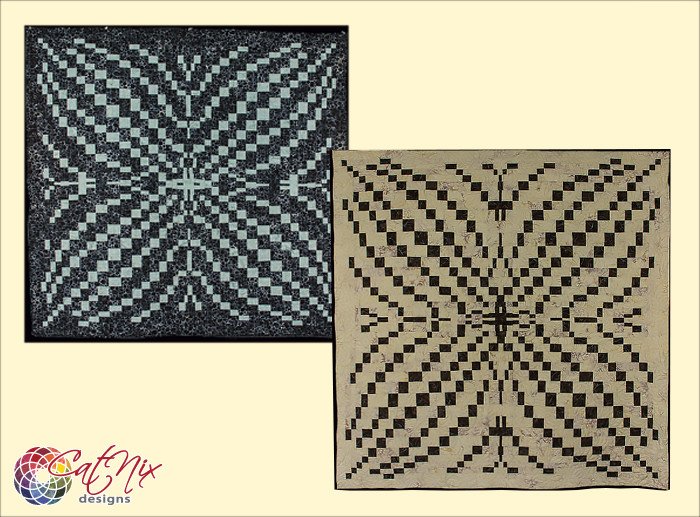 Click Here to see LORE - Chapter 1 Up Close
Every effort is made to present a well written, well illustrated, quilter-friendly pattern.  Pattern includes: Cover Page, Yardage Information, & "Good to Know" Basics for Quiltmaking.  The color illustrations, diagrams & written instructions are specific to the making of LORE - Chapter 1 

Skill Level:  Confident Quilter

Techniques: 

• Strip piecing
• Block Assembly
• Making Lapped Borders
• Binding
Useful Items:

Rulers: creative grids™ recommended
6-1/2 in x 12-1/2 in Quick Trim Ruler (CGR612)

6-1/2 in x 24-1/2 in Quilt Ruler (CGR24)

• 1/4 in Presser Foot with guide