InSiDeOuT
$15.95
When I asked my son what he wanted his next quilt to look like, he replied, "nothing flowery, Mom." 
Well, no flowers here, Rainer!  I love the way the colors dance with one another and  make the quilt appear to move inward and outward, thus the name, "InSiDeOuT"!  What a fun quilt to make!  Initial strip-piecing make the blocks simple to construct!  Whether you choose a colorful, or neutral palette, you'll have an eye-catching masterpiece for sure! Thanks for giving me the encouragement, Rainer!  
Though InSiDeOuT looks complex, the block piecing is quite simple.  Blocks build outward diagonally from the Corner Square. Rows of colorful Accented and UnAccented patches are attached to the top and side of the Corner Square.  Accented patches are strip pieced prior to cross-cutting the actual patch. Rotating 17 Warm (W) and 18 Cool (C) Blocks creates the body of the quilt.

InSiDeOuT is #2 in the "Whole Is Greater" series of designs by Cat Nix.  What is the 'Whole is Greater' series about?  I proudly proclaim: I'm a fabri-holic.  I share the opinion of many quilters that, when it comes to fabric . . . more is definitely MORE! The more fabrics I bring into in a quilt design, the happier I become!  Through the marriage of design and color, the viewer is invited to look beyond the beauty of the composition as a whole to explore the subtle nuances that lie within the quilt itself.  The composition encompasses every patch, every stitch;  from center to edge.  "InSiDeOuT" is another stunning illustration of the "Whole" being "Greater than" the sum of its parts.
A quilt is not a quilt until it's quilted.  Many, many thanks Shawn Leighton for making "InSiDeOuT" look so good!

Quilt Size: 54 x 71 Inches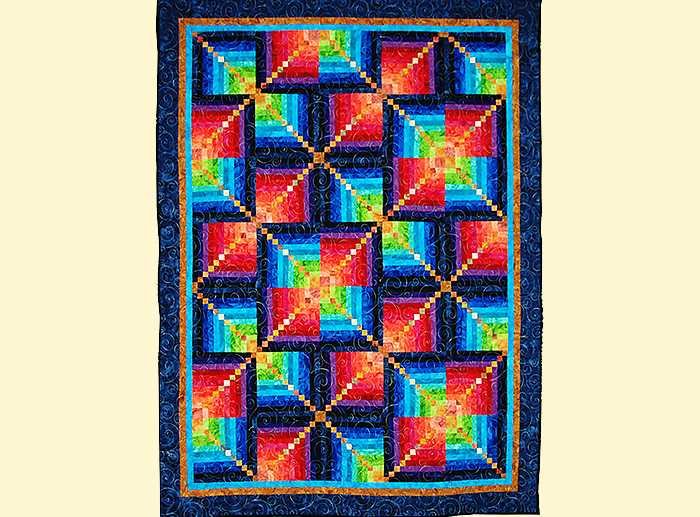 Click Here to see InSiDeOuT Up Close
Every effort is made to present a well written, well illustrated, quilter-friendly pattern.  Pattern includes: Cover Page, Yardage Information, & "Good to Know" Basics for Quiltmaking.  The color illustrations, diagrams & written instructions are specific to the making of "InSiDeOuT".
Skill Level:  Confident Beginner Quilter

Techniques: 

• Strip Piecing
• Making Border Sets
• Lapped Borders & Mitered Border Corners Instruction
• Binding Instruction
Useful Items:

Rulers: creative grids™ recommended
9-1/2 in. Square Ruler (CGR9)

• Finger-pressing Tool

• 1/4 in Presser Foot with guide