Horizon
$16.50
Imagine yourself camping beside the shore of a lake.  Just before dawn, you climb out of your tent; it's chilly.  The air smells of damp earth and foliage; all is still.  The mist is so heavy that you can't yet see the lake's edge; but you make your way toward it to greet the rising sun.  You know that in a couple of minutes, all around you will become clear, but, for a moment, all that you see are the beautiful colors of the new day reflecting off of the mist . . .  That moment is my inspiration for Horizon.
Horizon is a strip-friendly quilt composed of a series of pieced 60° triangles.  2-1/2 inch strips are joined prior to cutting the triangles.  (8) different pieced triangles are arranged to create (4) different groups. Groups are arranged to create 3 columns, which are joined to complete the center of the quilt.  Three borders are joined as one set, and attached to the center; an outer border wraps the quilt to finish the setting. 
Many, many thanks to Kara Headrick & Shawn Leighton for making "Horizon" look so good!
Quilt Size: From 62 x 65 Inches  

Every effort is made to present a well written, well illustrated, quilter-friendly pattern.  Pattern includes: Cover Page, Yardage Information, & "Good to Know" Basics for Quiltmaking.  The color illustrations, diagrams & written instructions are specific to the making of "Horizon".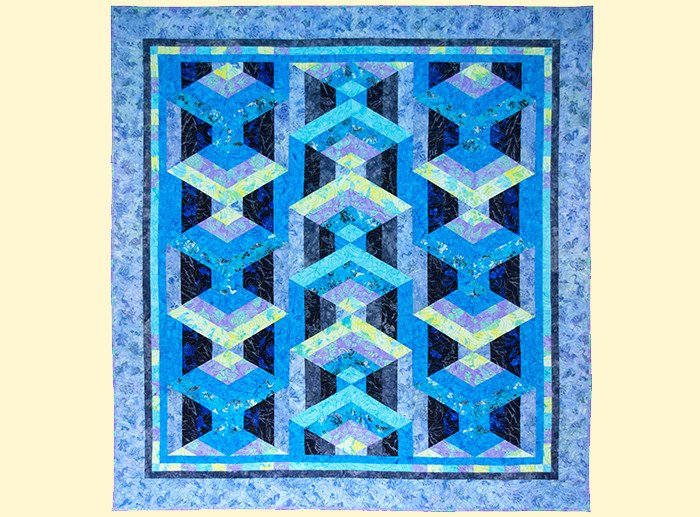 Click Here to see Horizon Up Close
Skill Level:  Confident Beginner Quilter

Techniques: 

• Strip piecing
• Block Assembly
• Making Border Sets
• Lapped Border Instruction

• Binding Instruction
Useful Items:

Creative Grids™ Rulers recommended
60º Triangle Ruler (CGRT60)

• Finger-pressing Tool

• 1/4 in Presser Foot with guide