Dragonflies in Flight
$14.95
This stunning quilt is evocative of a forest, as dragonflies ascend toward the sunlight streaming through branches overhead. Despite its complex appearance, this quilt is quite achievable.  The mystery lies in strip-piecing 3 palettes of 2.5 inch strips to form the colorful backdrop for the dragonflies' ascent.   
Let your imagination soar as the magic unfolds . . .  
Dragonflies in Flight is the first in the "Whole Is Greater" series of designs by Cat Nix.  What is the 'Whole is Greater' series about?  I proudly proclaim: I'm a fabri-holic.  I share the opinion of many quilters that, when it comes to fabric . . . more is definitely MORE! The more fabrics I bring into in a quilt design, the happier I become!  Through the marriage of design and color, the viewer is invited to look beyond the beauty of the composition as a whole to explore the subtle nuances that lie within the quilt itself.  The composition encompasses every patch, every stitch;  from center to edge.  Dragonflies in Flight is a stunning illustration of the "Whole" being "Greater than" the sum of its parts.
A Quilt is not a quilt until it quilted.  Many, many thanks to Shawn Leighton & Cathy Upchurch for making "Dragonflies in Flight" look so good!

Quilt Size: From 74 x 88 Inches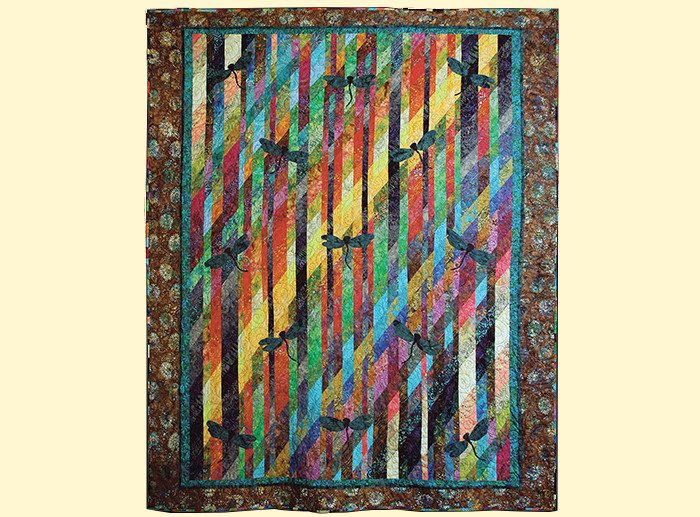 Click Here to see Dragonflies in Flight Up Close
Every effort is made to present a well written, well illustrated, quilter-friendly pattern.  Pattern includes: Cover Page, Yardage Information, Color illustrations & diagrams, & written instruction specific to the making of "Dragonflies in Flight". 
Skill Level:  Confident Beginner Quilter

Techniques: 

• Strip Piecing
• Lapped Border Instruction
• Binding Instruction
Useful Items:

Rulers: creative grids™ recommended
6 in. x 24 in. Ruler (CGR24)

• 1 Yard fusible webbing for applique

• 1/4 in Presser Foot with guide