ARiA
$19.95
One of my favorite musicals is Stephen Sondheim's "Into the Woods". The music compliments the story so well, it's a delight to experience. No matter how familiar the "Woods" becomes, one anticipates the "unexpected". Like the musical, a pleasant walk in the woods inspired "Aria". Though its story is complete, it (like a song) also resonates in unexpected ways . . . 
Aria is a 2-fabric wonder for the quilter who is experienced with machine appliqué. The design is revealed by combining regular and reverse appliqué with a Feature fabric and a complimentary Foreground fabric. 
Full-size Templates are included on an accompanying CD. To make full size templates for the center, take the enclosed CD to a local printer or office supply that makes large format prints. Print templates on regular paper, not poster weight paper.

Quilt Size: 50 x 50 Inches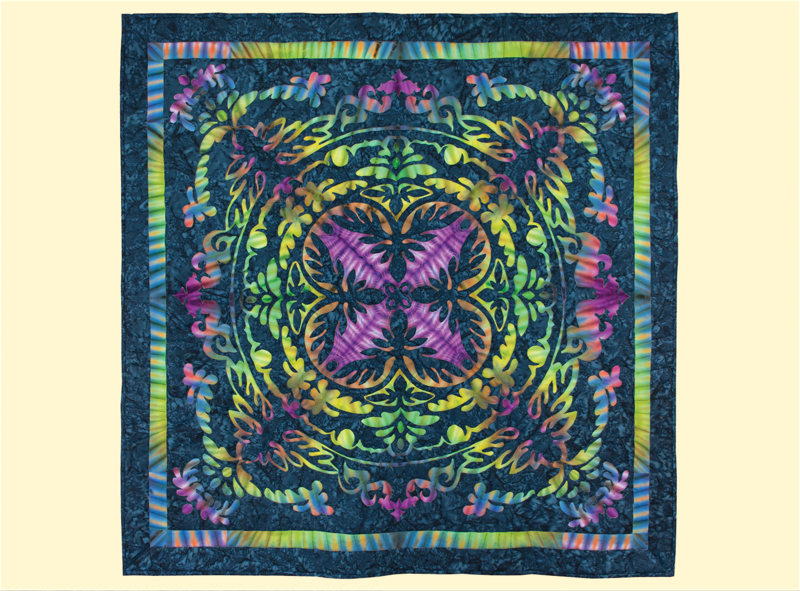 Click HERE to see Aria Up Close
Every effort is made to present a well written, well illustrated, quilter-friendly pattern. Pattern includes: Cover Page, Yardage Information, & "Good to Know" Basics for Quiltmaking. The color illustrations, diagrams & written instructions are specific to the making of "Aria".  Experience with machine appliqué is assumed; detailed instruction for machine appliqué is not included. 
Skill Level:  Experienced Quilter who enjoys machine Applqué

Techniques: 

• Raw Edge Applique
• Lapped Borders

• Binding
Useful Items:
2-1/2 yards of paper-backed fusible webbing (36" wide): Shades Soft Fuse Premium™ recommended http://www.shadessoftfuse.com

Fine tipped Permanent Marker or #2 lead pencil for marking webbing

Water soluble fabric marker

5 yards of Feather-weight fusible interfacing (20" wide) to stabilize fabric for stitching

Light Box for marking (extremely helpful, but not required).  You will need a large, well-lit area for marking.

Flathead pins for attaching webbing to paper template (helpful, but not required).

1/4 in. Presser Foot with guide for piecing

Open-toe Presser Foot for machine appliqué

Are you a shop owner or distributor?  Contact Cat for Wholesale information.